Reading time: 6 minutes
Teesside's manufacturing and industrial cluster is outstanding in the UK, based on metrics including sector workforce numbers and concentrations. And it's supported by a local ecosystem of education and skills providers that have been working hand in hand with industry for decades. We talked to Teesside University and Redcar & Cleveland College to find out how they help to keep the cluster running.
As one of the UK's major centres of heavy industry, Teesside is often described in terms of big numbers, and that applies to the area's labour force as well as its production capabilities. With a sector workforce concentration of 11 X the Great Britain average, it is, based on this recognised indicator, the UK's outstanding cluster of primary chemicals manufacturing businesses. Perhaps more surprisingly, at least to those not in the know, the area is also home to around 3,000 scientific R&D workers, making it a clear leader for research and development activities amongst the UK's process industry hubs.¹
Teesside's thriving industrial cluster is, therefore, built on a solid foundation of both skilled technical and highly qualified knowledge workers. Which begs the question: where do the area's skills and expertise come from?
Higher education in the service of industry
To provide an answer, it's worth remembering that heavy industry on Teesside goes back a long way – to well before the area built both the Sydney Harbour and Tyne bridges in the 1920s and 1930s. It was, however, around that time that Constantine Technical College was officially opened, by the Prince of Wales, to provide local industry with the highly skilled engineers it needed. Later, in 1969, the college became Teesside Polytechnic, which in turn became Teesside University in 1992. But Constantine College's original remit continued throughout that time, and to this day – to produce high-quality engineering graduates and enable wealth creation, both for Teesside and the wider UK economy. Teesside University's recent accolades have included The Queen's Anniversary Prize 2014-18 for outstanding work in the field of enterprise and business engagement.
Supporting industry is, therefore, in Teesside University's DNA, and the institution works with businesses in a variety of ways. Teesside-based companies, including SABIC, Ensus and Huntsman at Wilton International, benefit from a local source of work-ready graduates in engineering disciplines including chemical, aerospace, mechanical, electrical and electronics, and instrumentation and control. These are complemented by digital technologies, applied sciences and other industry-focused subjects such as business and law, with many courses accredited by professional bodies and designed in consultation with industry. Potential ways for businesses to engage include student industrial placements, higher and degree apprenticeships, Knowledge Transfer Partnerships and Research and Development projects.
To address the specific needs of Teesside's industrial employers, the university has made substantial investments in highly specialised courses and equipment.
'Our Instrumentation and Control degree is one of very few in the UK, providing advanced skills for the chemicals and process sectors,' says Teesside University's Dr. David Hughes.
'To ensure realistic training, we've made major investments in facilities that replicate heavy industrial process kit, including a 3-floor, fully instrumented distillation column with a SCADA control. That responds directly to the needs of local industry; for example, SABIC's Wilton International facility has four distillations columns that our rig can provide training for.'
At the forefront of automation and digitalisation
Dr. David Hughes is Enterprise Fellow at Teesside University's School of Computing, Engineering and Digital Technologies – a name that, in itself, highlights the university's focus on the of needs of industry in the digital age.
'Our engineering courses are complemented by others in computer science, digital technologies, artificial intelligence, data analytics and information technologies,' says David.
'We are embedding data analytics and AI into all our engineering disciplines. It's a powerful combination, meaning we can offer innovative solutions to help companies stay at the forefront of developments in automation and industrial digitalisation.'
'We have several digital-focused projects, upskilling businesses and the workforce to face the challenges of Industry 4.0. We help prepare engineering companies to work with Big Data – collecting data, mining it and doing intelligent things with it. And we can work with the company's own data to ensure that projects are relevant and meaningful to them'.
Years of experience providing skills for industry
The skills requirements of industry are not, of course, all at university level, and the alignment between skills provision and business needs is equally evident in Teesside's Further Education colleges, serving the area's 16-18 year olds, apprentices and adults. One of them is Redcar & Cleveland College (RCC), part of the Education Training Collective (Etc.) that also includes NETA, a specialist industrial training provider. Both the college and NETA have years of experience in providing training for local industry, in areas including chemical engineering, general engineering and advanced manufacturing.
'For the process sector we're the only organisation nationally offering a distance learning City & Guilds qualification in Process Technology,' says Gary Potts, Group Director for Business Engagement at Etc. 'For established workers, including many at Wilton International, the course's flexibility means they can manage studying around their shift patterns'.
Often, courses delivered by the college are bespoke and tailored to the needs of individual businesses. Examples include Sector-Based Work Academies, which can be set up with individual companies, or groups of employers, to help recruitment when there's a need for several qualified workers with particular skills. And, like Teesside University, the college recognises the importance of training facilities that replicate real industrial workplaces.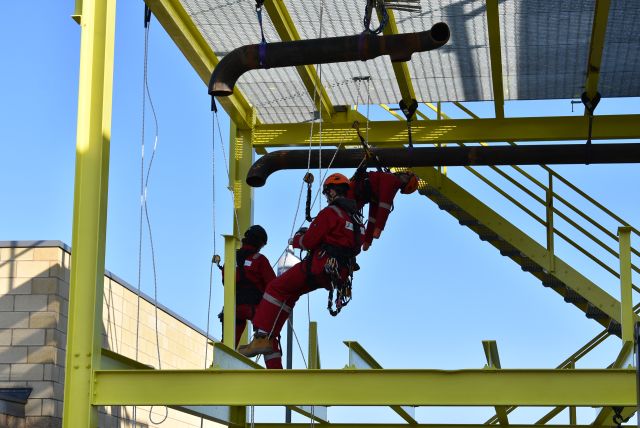 'Working with a partner provider, we've erected a new industrial training rig with multiple platforms, pipework, valves and cable trays, to develop and assess trade competencies while using rope access in inaccessible areas,' Gary says.
'This simulates environments where on-site training isn't always possible. The aim is to promote behavioural safety and enable trainees to apply their knowledge and skills, and demonstrate competency, in real-life situations, helping to ensure a skilled workforce for upcoming industrial projects.'
Another theme running between Redcar & Cleveland College and Teesside University, with whom the college partners to deliver higher level qualifications, is helping to prepare businesses and workers for the challenges presented by Industry 4.0.
'The college has state-of-the-art equipment and resources for advanced manufacturing training,' says Gary. 'That includes a Programmable Logic Controller (PLC) - a computer that can be programmed to manage the flow of production lines. We also have advanced manufacturing cells that include sensors, robots and conveyors, to simulate errors and faults, to develop students skills in fault finding and diagnosis.'
Ready to add value for businesses
Both Dr. David Hughes and Gary Potts are keen to emphasise their institution's readiness to work with industry, the flexible training solutions on offer, and why engagement is in the interests of businesses.
'We have a wide range of ways to engage employers with student talent,' says David. 'They include internships, placements and online, flexible open-learning options, so workers can learn in ways that suit them. And because large businesses pay the Apprenticeship Levy, using it to upskill staff makes sense – it's effectively a tax break.'
Gary emphasises Redcar and Cleveland College's commitment to building close collaborations with businesses for long-term benefit.
'We want to build transformational partnerships with industry,' he says, 'relationships that add real value and are more than just transactional.'
Etc.'s business engagement director also expresses a strong belief in the value of the Teesside workforce that his organisation is committed to developing.
'Teesside has a massively rich industrial workforce with talent and technical expertise,' Gary says. 'It's steeped in the tradition of industrial work and very flexible, with lots of transferable skills – for example from steelmaking to new sectors like renewable energy. That's gold dust for industrial inward investors.'
Industrial Cluster
Workforce and Skills