Reading time: 5 minutes
Reliable, large-scale nitrogen supplies are vital to the safety and security of many industrial processes. That's why a £4.7 million overhaul of Wilton International's critical nitrogen storage and emergency backup system demonstrates a long-term commitment to investing in essential services for site occupants. We interviewed Carl Shuttleworth, Project Portfolio Manager at Sembcorp Energy UK, the company that manages Wilton International, to find out more.
From chemicals and plastics to steel and electronics, industry has a wide range of essential uses for nitrogen, as Carl Shuttleworth explains:
"Businesses in the chemical and process sectors need large-scale nitrogen supplies because it's an inert gas. It doesn't react with other agents and it prevents the oxidation of materials, which is very useful," Carl says.
"Nitrogen is widely used to prevent fires and explosions in dangerous environments, by lowering the oxygen level below explosive limits. It's used to purge pipelines of combustible gases in the chemical sector, and its usefulness as a purging gas is vital to operations such as laser-cutting in the steel industry. Laboratories purge highly sensitive analysis equipment with nitrogen, the plastics industry uses it to control moisture and oxygen levels in their processes, and electronics companies use it to prevent over-heating. Secure, resilient and safe supplies of nitrogen are business critical across all these sectors."
As a leading UK location for chemical and process sector businesses, reliable supplies of nitrogen and other industrial gases are, therefore, a key requirement at Wilton International. Which is why Sembcorp Energy UK has invested £4.7 million in the site's nitrogen system, ensuring an uninterrupted and secure supply of this essential gas.
"We have successfully completed phase one of the nitrogen system overhaul, on time, and at a cost of £1.7 million," Carl explains. "Phase 2 is now underway. The project has enabled Sembcorp Energy UK to secure a 10-year contract extension for provision of a critical backup service to BOC, who supply nitrogen and other industrial gases to the site using our pipeline infrastructure".
'Nearly 30 Albert Halls' of nitrogen storage capacity
Beneath Wilton International, underground salt cavities provide a vast and secure nitrogen backup storage system. Click on our Infographic to see how the system works.
"The nitrogen system was designed in the 1970s to provide a rapid-response backup to the site's intermediate pressure Nitrogen distribution system, which BOC owns, operates and manages. If, for any reason, BOC's regular supply is compromised or limited, this backup system feeds nitrogen directly into the pipeline distribution network supporting the facilities on site, meaning there's no interruption in supply," Carl says.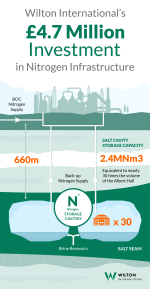 Click image to enlarge
"Two vast underground cavities have been formed by extracting salt 660 metres below the surface, both carefully designed and shaped within the salt seam that runs under the site. Each one can store 2.4MNm3 of compressed nitrogen, which is nearly 30 times the volume of the Albert Hall!"
"A large, saturated brine reservoir keeps the nitrogen at constant pressure irrespective of demand fluctuations, whilst holding it in place, preventing leaks. Inspection and maintenance of a cavity and well needs to be done on a rolling cycle, and it's a time-consuming and exacting process. The cavity needs to be emptied for this work to be undertaken so, while two fully functional cavities are needed, only one is in use at any given time. Phase 1 of the project has brought the second cavity back into service for the first time in six years, allowing the first cavity to be emptied and preserved with necessary maintenance to be carried out."
A future-proofed nitrogen supply
By installing new plant and upgrading existing facilities, Sembcorp Energy UK is future-proofing Wilton International's nitrogen supply.
"In phase 2 of the project we are installing two new, high-pressure nitrogen compressors and a brine production plant, as well as upgrading the control system and other critical plant equipment" says Carl. "We expect this to be completed by the end of 2020, securing the future not just of the facilities themselves, but also of businesses on the site that depend on an uninterrupted supply of nitrogen".
Ensuring safety and security
"A safe and secure nitrogen supply is vital to the running of major industrial facilities at Wilton International," Carl Shuttleworth explains.
"As well as being essential to chemical and industrial processes, it's used as a suppressant in chemical and electrical fires. Any interruption in the site's nitrogen supply would therefore be a major problem for some of our occupants. It's of critical importance to chemicals manufacturers like SABIC - a break in supply would lead to an emergency shutdown of their cracker, with serious consequences in terms of safety, cost and time. Wilton International has high-tier COMAH safety rated sites, part of which is because we have security of supply of nitrogen."
Part of Wilton International's world-scale infrastructure
"The nitrogen system is a small but essential part of Wilton International's massive supply infrastructure," says Carl.
"We have more than 120km of pipelines for various utilities. They connect services to facilities on the site, as well as linking our businesses directly to the port and the wider Teesside industrial cluster. Businesses on site use pipelines to transport feedstocks and products from and to the port, and some have port-side storage for feedstocks shipped via the North Tees liquid bulk terminals. Our pipeline infrastructure gives them a secure, low risk way of transporting their raw materials direct to site," Carl says.
"BOC supplies nitrogen, oxygen, hydrogen, CO2 and other industrial gases which are fed directly to customers through our pipeline infrastructure. Sembcorp Energy UK also uses the pipelines - to provide natural and fuel gases, compressed air, brine, steam at various pressures and demineralised, raw and potable waters to businesses on the Wilton International site".
A ready-to-go location for investing industrial businesses
Sembcorp Energy UK's continual investment at Wilton International ensures that businesses on the site have the secure, resilient supplies of industrial gases they need. For investing industrial businesses seeking a new location, the site's extensive infrastructure, 'plug and play' energy and world-scale utilities add up to a highly attractive, ready-to-go site solution. That's why Wilton International is the location of choice for energy-intensive businesses investing in the UK.
Site Infrastucture
Energy and Utilities
Industrial Cluster